NI planning process criticised by European court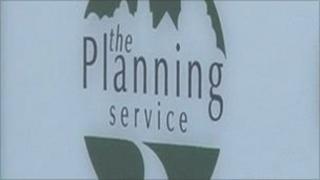 Part of Northern Ireland's planning process has been deemed unacceptable by a senior lawyer at the European Court of Justice (ECJ).
The case concerns the way area plans are drawn up. These are the frameworks which set out the planning strategy in each region of Northern Ireland.
Northern Ireland's Appeal Court referred the case to the ECJ to get answers to a number of questions about European law.
The questions were considered by an advocate general - a senior official who presents a non-binding opinion to the court.
His opinion has called for a separate independent body to be set up to deal with some planning consultations.
If the court follows his view it could have major implications for NI's planning system.
Area plans are drawn up by the Planning Service which is part of the Department of Environment.
The service has to seek advice on the possible environment impacts of the plans - what is called a Strategic Environmental Assessment. But it gets this from its own department and that is the problem.
The advocate general says that this process is unacceptable because one section of a department seeking advice and ruling from within the same department means there is no provision for independence, as required by law.
He said: "A public authority cannot be consulted on the effects of a plan for which it is originally responsible."
The judge recommended that a new, more independent authority will have to be asked about the environmental impacts of plans drawn up by the department.
The Department of the Environment said: "The advocate-general's opinions are advisory and do not bind the court.
"It will also be noted from the content of the opinion that the department's position has the support of the European Commission and the Government of Denmark.
"The department will await the opinion of the European Court of Justice before making any further comment "