MP Alisdair McDonnell vows to fight City A&E plans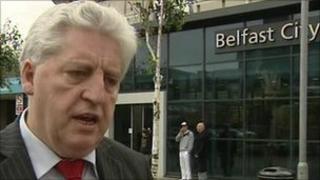 The MP for South Belfast has said he will "fight tooth and nail" against the potential closure of the City Hospital's accident and emergency nnit.
Health Minister Edwin Poots has strongly indicated the South Belfast unit will close in a shake-up of emergency services.
His reasons include that there are too few junior doctors available to be at the frontline.
South Belfast MP Alasdair McDonnell said his constituents would suffer.
"This is not a good move. I am deeply deeply concerned," he said.
"I have been inundated today and yesterday, since rumours of this move began to emerge and we will be doing everything in our power, in my office and myself - I will be making representations to wherever I can, including the minister, to ensure that this is looked at again."
About 42,000 people visited the City Hospital's A&E department last year.
Earlier, the health minister defended his proposals which could mean its closure.
"It is not always your local hospital that is best to treat you. On some occasions, you will get a better service driving past the nearest hospital to the one that is best suited to your needs," he said.
The minister added that there was a strategic problem across Northern Ireland with too many hospitals and not enough junior doctors.
Drop-in centre
The most recent figures from the Department of Health show that there has been a seven-fold increase in the number of people who have had to wait more than 12 hours for treatment at casualty departments in Northern Ireland.
Mr Poots said that he wanted action taken to reduce the number of people who went to A&E because they were unable to get an appointment with their GP quickly enough.
He said there was also a minority of people who treated A&E like a "drop-in centre".
Ulster Unionist MLA for South Belfast Michael McGimpsey and former health minister has called on the minister to postpone his decision until building projects at the Ulster Hospital and Royal Victoria Hospital had been completed.
"As minister for health, I warned that not enough money was being allocated to health to allow it to cope with demand."
He added that the move had been motivated by a focus on money rather than patients and would increase pressure on already stretched services.
Unite, the public sector workers' union, called on the minister to engage with communities "to demonstrate that better facilities will be available to accommodate the additional pressures on the Royal and Mater sites."
"We are concerned that this announcement is more about softening people up ahead of closure of one more A&E service in the greater Belfast area using the argument that a lack of junior doctors makes the service unsafe," the union's Kevin McAdam said.
Open secret
The chief executive of the Health and Social Care Board John Compton has stressed that the current plans are not motivated by financial pressures.
He said it was an "open secret" that the pattern of emergency care needed to change across Northern Ireland and that this was "the beginning of the debate".
BBC NI health-correspondent Marie Louise Connolly said while the public feel they might deserve three acute hospitals on their doorstep, figures would suggest otherwise .
In Belfast where the population is 268,700 there are three accident and emergency departments.
However, the population of Hull in East Yorkshire is 263,900 and it is served by one A&E as is Coventry in the West Midlands which has a population of 315,700.