Bookmakers badly damaged in arson attack in Strabane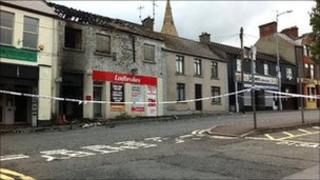 A bookmakers has been badly damaged in an arson attack in Strabane, County Tyrone.
Two men set fire to wheelie bins and placed them outside the front door of the premises on Butchers Street around 0230 BST on Friday.
The fire took hold quickly and spread to an adjoining property, which received minor damage.
A number of homes in the area were evacuated for a short time.
Butcher Street and Market Street were closed while fire crews dealt with the blaze. They are now open.