Peel P50 takes over the roads in County Fermanagh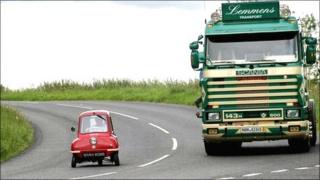 As one of the world's smallest cars the Peel P50 isn't exactly a practical family vehicle.
There's no room for children, shopping bags, or even a dog, yet it takes pride of place in the driveway of one family from County Fermanagh.
Pat Monaghan recently refurbished the mircocar with the help of his nephews Stephen and Edward - more than 30 years after their father bought it.
"Jim got it in 1972," said Pat.
"His first son was one at the time, and he bought it with him in mind. He wanted to pass it on.
"He (Jim) didn't get to drive it much himself though, he passed away in 1975."
Following his brother's death, Pat decided to place the car in storage to protect it from his boisterous young nephews.
"I didn't want the boys breaking it," he added.
He has since restored the three-wheeler to its full glory and with a new engine, paint work and steering the Peel P50 is enjoying a new lease of life.
"It took three or four years to restore it. He had to get parts from China and Hong Kong.
"We have it out a good bit now. We just brought it down to the Lady of the Lakes festival in Fermanagh."
Britain's smallest vehicle was originally manufactured on the Isle of Man and there are just 20 left in the world.
Its impressive credentials make it a collectors' item, but Pat is adamant he won't be parting with his beloved mircocar any time soon.
"We have been tempted, but I can definitely say it is not for sale. It is a family heirloom and we are very privileged to have it," he added.