Executive to help finance Roy Portrush major bid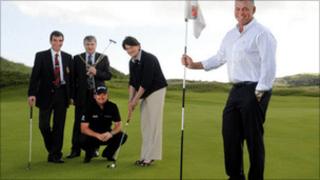 The tourism minister has confirmed the NI Executive will offer financial assistance to help bring a major golf tournament to Royal Portrush.
The last time the course staged a major competition was the Open in 1951.
Major wins by Graeme McDowell, Rory McIlroy and Darren Clarke have put Northern Ireland firmly on the golfing map.
"The time is now right to bring a major international golf tournament to Northern Ireland," Arlene Foster said.
"This will showcase our golf tourism offering all over the world and provide a major boost to our local economy.
"This will need a major commitment from Royal Portrush Golf Club, the European Tour, sponsors, the Northern Ireland Tourist Board, Tourism Ireland, Coleraine Borough Council and others.
"But I am confident that we will work well together to make this a world-class event."
Philip Tweedie, Captain of Royal Portrush, said: "We are presently in talks with a number of additional potential sponsors from the private sector.
"We at Royal Portrush, are very much looking forward to working with all our partners to be able to host a major professional tournament that is worthy of the very high standards that have now been set by our three major champions."
Niall Gibbons, of Tourism Ireland, said the three major victories by Northern Ireland golfers had provided a "terrific opportunity" to attract a tournament.
"What makes Northern Ireland special is the warmth of the welcome, the world-class golf courses and the stunning scenery," he said.
"Securing a major tournament would present an unprecedented opportunity for us to showcase this in a whole new way in top markets around the world."
Open opportunity
On Monday, the chief executive of the Royal and Ancient, Peter Dawson, said that the Open's organisers would have another look at staging it in Portrush.
"I think we're all very aware of the fact that three winners from Northern Ireland increases the interest level in this," he said.
"The usual mixture of a great course and plenty of infrastructure, combined with a prospect of commercial success, is what's needed.
"There's no doubt about the golf course at Portrush, although there might be one or two things one would do, but the other two are what we have to look at.
"I don't want to start a hare running on this, other than we are going to take a closer look."