Coalisland man accused of Declan Quinn murder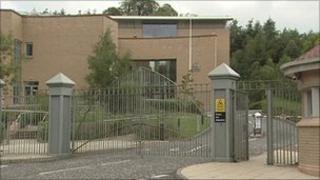 A man has been charged with murdering his second cousin in a hit-and-run accident in Coalisland.
Declan Quinn, 37, died on Monday after being hit by a car on the Gortgonis Road in the County Tyrone town on Saturday.
Anthony Joseph Quinn, 21, of Maplebrook Hill in Coalisland, is accused of his murder and of driving while disqualified.
He was refused bail and will appear in court again next month.
A detective told Dungannon Court on Friday that Anthony Quinn was already on bail on an assault charge.
He said there were concerns about interfering with witnesses and failing to attend court after he left the jurisdiction on Saturday.
A solicitor said Mr Quinn had been called to his father's house which was being attacked. He said that when he arrived, three men chased him by car and on foot. When the vehicle blocked Mr Quinn's car, his solicitor said Mr Quinn saw Declan Quinn with a hammer and another man with a gun standing on the road.
Fearing for his life, he ducked behind the wheel, then only realised the windscreen was smashed.
Mr Quinn's solicitor said his client had gone to his mother's house in the Republic of Ireland where he made arrangements to hand himself in to the police on Tuesday.
He said his client had answered all the police questions and had broken down after giving his account of what had happened.
Earlier this week, a 20-year-old man arrested on suspicion of assisting an offender and withholding information was released on bail.