Jason Anpomah in Belfast court over Croydon shooting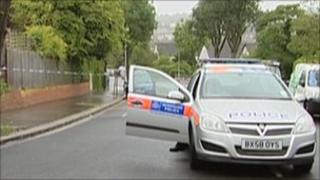 A man charged in connection with the suspected attempted murder of an unarmed police officer in London has no direct link to the shooting, a court in Belfast has been told.
Jason Anpomah, 20, was arrested in Belfast along with a 26-year-old man as part of the inquiry into the gun attack last Friday.
The policeman was shot in the arm as he chased three men in south Croydon.
Mr Anpomah denies assisting offenders and withholding information.
The receptionist, with an address at Dunluce Avenue, Belfast, was arrested on the Lisburn Road in south Belfast on Wednesday night.
A house was searched and a number of items were removed for examination.
The 26-year-old suspect was taken back to London for questioning about the alleged attempted murder.
Operation Trident
Mr Anpomah's lawyer, Dennis Boyd, told Belfast Magistrates Court on Friday that his client denied the allegations against him.
Mr Boyd told the court the charges were linked to a wider inquiry being run by Operation Trident, the Metropolitan Police Service unit set up to investigate gun crime among London's black community.
He added: "There is no suggestion that this man is linked to that attempted murder."
Mr Anpomah did not apply for bail.
He was remanded in custody for a week, to appear again via video-link.
Another two men, aged 21 and 22, have already been charged in connection with the incident.