Councillor Iain McAfee's election under investigation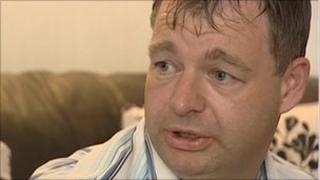 A new councillor who has been in self-imposed exile since the legality of his election was questioned has said he regrets putting himself before the electorate.
Former community worker Iain McAfee received 347 first preference votes when he stood as an independent candidate for Ballymoney Borough Council in May.
But within a few weeks the chief executive phoned to tell him a complaint had been made about his position.
Councillor McAfee's mistake had been to ignore the 1972 Local Government (Northern Ireland) Act which disqualifies a person from standing for election if they hold any paid office with a council.
He works as a health inequalities officer funded by the Public Health Agency but attached to Ballymena Borough Council.
"I immediately decided that if there was going to be any query over my eligibility I would immediately step back, " he said.
"There was a meeting that evening and I put my apologies in and since then I've not attended a meeting and I went the next day with a cheque to pay back any allowances."
Since then he has not attended any council meetings, nor accepted any money.
He has been interviewed by the police who said a file has been prepared for submission to the Public Prosecution Service.
"It is an understatement to say I was shocked," said councillor McAfee who claimed if no-one had complained neither he nor the council would have been aware he had done anything wrong.
"I'm still officially a councillor to a degree because I'm still receiving correspondence and everything else and there's been no other action taken. I've been interviewed by the police and really, I'm in limbo.
"I'm still receiving phone calls from people in the community looking for help. I've still got a lot of people who feel I should still be a councillor.
"The local press has been full of articles and letters... it's really heartening to see that because its been a very difficult time for myself and my family and, to a degree, a lot of people who supported me from day one.
"To be perfectly honest some days its really difficult. Other days you get very determined that there's still a job to do.
"I stood for a number of issues and I felt I was speaking for a section of the community that felt they weren't being listened to and that's still the case."
The council chief executive John Dempsey said it is now a matter for the police and the courts.
But he added: "Where a councillor fails to attend any meetings for a six-month consecutive period, that councillor ceases to be a member of council; council must then declare the office to be vacant and I must publish that fact in the way that council directs me."
'Scandal'
In other words it is likely Mr McAfee will cease to be a councillor at that stage. It then has to be decided if he can nominate someone else or if there has to be a by-election costing up to £30,000.
Another Ballymoney councillor, Ulster Unionist Bill Kennedy said it would be a "scandal" if the councillor was "branded a criminal."
"I think the law does need to be changed. And I would hope that councillor McAfee wouldn't lose his seat," he said.
The case has prompted many letters to local papers.
Alan Millar, senior reporter with the Ballymoney Chronicle, said: "There is definitely a constituency of voters out there who want change and I think Mr McAfee rode that tide of opinion.
"I think that constituency in particular feel cheated that their votes will not count."
Councillor McAfee said he would not have stood if he had known he was doing anything wrong.
"Obviously I have regrets, " he said.
"It's been a life experience, regardless of how this turns out.
"I've had, if you like, the double-edged sword where I've had the elation of getting elected and then the fact that so many people voted for me and I have the downside of a lot that's happened since."