Youths in overnight violence in north Belfast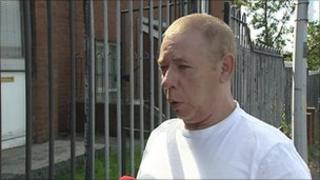 Houses and cars have been damaged in an interface area of north Belfast overnight.
The police said about 30 youths, from both Catholic and Protestant areas were involved.
The disturbances took place around the Lower Oldpark Road, Manor Drive and Rosapenna Street areas.
Cars were damaged and house windows were broken. No one was injured during the disturbances and the trouble ended at about 0330 BST.
Resident Joe Keenan said he went outside with his son when he heard what was happening.
"We went out to see if we could help, at one point we got some of the kids to head back up the road but then they came back and started kicking the doors and windows of some of the houses on the road."