£3m plan to restore Titanic tender ship, SS Nomadic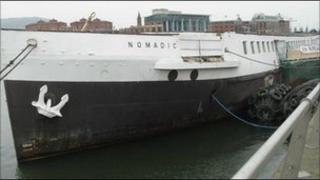 More than £3m has been awarded to support the restoration of the Titanic's tender vessel the Nomadic, the Heritage Lottery Fund has said.
The project will offer a glimpse of life in Belfast's Harland and Wolff docks in 1911.
The SS Nomadic will be returned to its original condition.
The boat was used to ferry passengers to Titanic at Cherbourg ahead of its ill-fated maiden Atlantic voyage in 1912.
On 15 April, Titanic sank after striking an iceberg. More than 1,500 people were killed.
The SS Nomadic saw out the end of the last century as a floating restaurant beside the Eiffel Tower in Paris.
Northern Ireland's Department of Social Development bought the Nomadic at a Paris auction in 2006 and brought it back to Belfast as a potential tourist attraction.
Chairman of the lottery fund committee in Northern Ireland Ronnie Spence said: "The project will enable people to see, hear and experience what life was like in the famous Harland and Wolff docks during 1911.
Hierarchy of travel
"With the world's last remaining link to Titanic and sole-surviving White Star Line vessel taking centre stage, the SS Nomadic will provide a unique and authentic offering for visitors to the Titanic Quarter."
A total of £3.25m from the lottery fund will be spent on the overhaul.
The Nomadic, like the Titanic, was built by Harland and Wolff in Belfast. It is currently undergoing work at the Hamilton Dock in Belfast's Titanic Quarter.
Original plans and drawings will be used to restore the Nomadic, with panelling and features retained from the time and reused where possible.
The interior will highlight the hierarchy of travel during the period. The lower and upper decks which housed first and second-class passengers contrasted sharply with the austerity of the third-class area.
The lower deck will contain an education and learning section for schools and community groups as well as a museum, and will also host lectures and exhibitions.
Social Development Minister Nelson McCausland has provisionally earmarked a contribution of up to £1m from his department.
"It is recognised that the project will attract new and additional visitors to Northern Ireland, Belfast and Titanic Quarter in particular by offering a rich visitor attraction," he said.