Superquinn collapse: NI companies fear £5m losses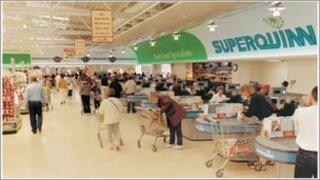 About 15 companies in Northern Ireland, owed an estimated £5m after Irish supermarket chain Superquinn collapsed a week ago, fear they may never get paid.
Superquinn was bought a day after the collapse by convenience retail group Musgrave, securing staff jobs.
However, a freeze imposed on Superquinn's accounts stopped it honouring cheques issued to creditors.
Now NI companies fear that they may never get paid.
Farmers and food delivery companies are facing major losses.
"Our members are extremely angry," said Michael Bell from Northern Ireland Food and Drink - a voluntary organisation set up to help food and drink companies compete successfully in the market place.
"Many companies are owed hundreds of thousands of euros. This was announced very suddenly. Essentially, we do not know whether we will ever get paid."
Mr Bell said it was particularly hard for smaller companies.
"If you lose 100,000 euros (£88,240) against a profit of 300,000, (£264,700) it is very damaging," he said.
NI Food and Drink has been in touch with the NI Minister for the Economy Arlene Foster who was very helpful, he said.
The group plans to meet Agriculture Minister Michelle O'Neill and the supermarket chain's receivers later this week.
Mr Bell said it was a distressing situation for the companies who were left without money through no fault of their own.
When it was placed in receivership, Superquinn owed 55m euros (£48.5m) to suppliers and 275m euros(£242.5m) to banks.