Private investors in £1bn share deal with BOI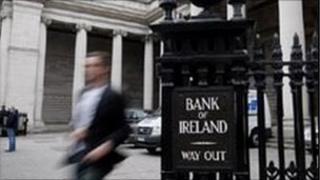 Private investors have committed to buying 1.1bn euros (£972m) of the Irish state's shares in Bank of Ireland.
The government agreed to a deal with a large group of equity investors. In return they will receive a minority stake in the bank.
The development means the amount of money Irish taxpayers have to put into the company will be reduced.
The Republic's finance minister welcomed the investment.
Michael Noonan said there would be no additional risk-sharing for Ireland and the development would increase confidence in the banking sector.
In March, the Central Bank required Bank of Ireland to raise more money to cushion against future bad loans.
Rejected
While bondholders have helped provide some of that cash, the company still needs to raise 1.9bn euros (£1.68bn), which it is doing by selling new shares.
At a general meeting earlier this month many shareholders rejected the idea of buying more stock in the bank. That meant the Irish state would have to shoulder the burden of providing the money and in return could own a majority of the bank.
However, Monday's announcement now means a group of private investors are willing to buy a substantial portion of the new shares along side the taxpayer.
The final shareholdings as a result of this deal will not be clear until it is known how many ordinary shareholders buy stock in the coming days.
The maximum the private investors will own will be 37% of Bank of Ireland and the minimum will be 14%, but this will rise to 19% after a top-up.
The maximum the state will hold will be 32% and the minimum will be 15%. The deal means the taxpayer will not own a majority of the bank.
It also shows outside investors have some confidence in the company's prospects.