Norway attacks: Book of condolence opened at city hall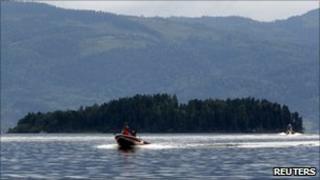 A book of condolence has opened at Belfast City Hall for the victims of the Norway massacre.
A bombing in the capital, Oslo, and a gun attack on a youth camp on Utoeya island, is now thought to have killed a total of 76 people on Friday.
Belfast's Mayor Niall O Donnghaile signed the book at 1000 BST on Monday and it has remained open for members of the public.
The man who has admitted the attacks is appearing in court on Monday.
Anders Behring Breivik said he would explain his actions to the court. Earlier, he described the attacks as "gruesome but necessary".
At least 96 people were injured in the attacks.
Meanwhile, Nobel Peace Prize winner Mairead Corrigan Maguire has sent condolences to Norway on behalf of the Peace People in Northern Ireland.
"The Peace People have deep and long standing links and personal friendships with the people of Norway, who since 1976 have stood in solidarity with all those working for an end to violence and for peaceful resolution of conflict in Northern Ireland.
"It is therefore deeply sad for us to hear of the violence that has struck your citizens, mostly youth, and so cruelly cut short their young lives," she said.
"On behalf of everyone in the Peace People, and your many friends in Northern Ireland, and with the deepest sadness we send to the families and friends of all those killed in the Oslo bomb attack and Utoeya Island attack, our prayers and condolences."