£1.8m ad campaign to lure golfers to Northern Ireland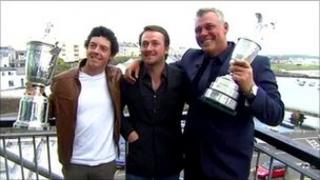 Tourism Ireland is rolling out a golf tourism campaign worth £1.8m.
The Home of Champions campaign aims to capitalise on the huge interest in the success of Rory McIlroy, Darren Clarke and Graeme McDowell.
There will be new advertising campaigns in Britain and the US this summer, including on America's Golf Channel.
There will also be a co-operative campaign with airline bmi - golfers can take their golf bags on free on flights from Heathrow to Belfast City Airport.
An estimated 365,000 Americans will also see ads and features on golf in Northern Ireland in Golfweek and Golf World magazines and in the Irish Echo and Irish Voice newspapers.
In Britain, new 'Home of Champions' ads will run in key golf, business and financial publications, driving potential golf holidaymakers to the golf offers section of the Discover Ireland website.
Tourism Minister Arlene Foster said: "The success of Darren Clarke, Rory McIlroy and Graeme McDowell has led many commentators to label Northern Ireland the 'golfing capital of the world'.
"The fact that we can now boast three major winning golfers in 13 months gives us an unprecedented opportunity to show the rest of the world what makes Northern Ireland's golf offering so special."
Niall Gibbons, Tourism Ireland chief executive, said: "Darren Clarke's victory at the British Open, coming on top of wins by Rory McIlroy and Graeme McDowell at the US Open, has placed golf in Northern Ireland in the global spotlight and represents a huge opportunity.
"Tourism Ireland is focused on growing the number of golf tourists to Northern Ireland in 2011 and beyond, and building on the tremendous positive publicity surrounding these extraordinary wins.