Accused 'threatened to kill man's family'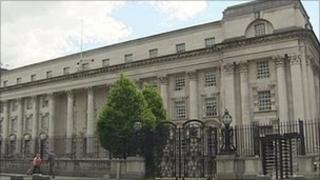 A man who allegedly refused to provide £15,000 for a cannabis growing operation was told his family would be killed, the High Court has heard.
The alleged victim, a Chinese chef, was threatened when he met his intimidator at a south Belfast bar earlier this month, the prosecution said.
Terry Waikoklee Lee, 30, of Apsley Street in the city, is accused of demanding money with menaces.
He was granted bail to live at an address approved by police.
He must keep out of parts of Belfast.
Barry Valentine, prosecuting, said Mr Lee is alleged to have asked the man for the cash to go towards a cannabis cultivation venture.
It was claimed that after refusing he was told: "You don't have money, I will get your wife and child.
"You don't give me the money then you don't stay in Belfast. You don't give me the money I will kill your whole family."
Following his arrest Mr Lee admitted meeting the man in the bar but claimed it was entirely innocent, the court was told.
With bail opposed amid fears of possible interference with the witness, a defence lawyer said police would neither confirm nor deny if he was in protective custody.
He added that Mr Lee denied demanding money from him during their encounter.
Granting bail, Mr Justice Weatherup said prosecution concerns could be managed by keeping the accused and alleged victim out of contact.
He ordered Mr Lee to be excluded from south east Belfast and imposed a night-time curfew.