Londonderry: masked man throws device at house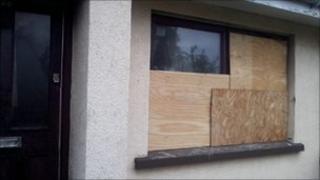 There has been an explosion at a house in Londonderry.
A masked man threw a device at the house on the Glenbank Road in the city at about 2315 BST on Monday night.
No-one was in the house at the time. The building was extensively damaged in the blast.
Mark H Durkan, MLA, said someone could have been seriously hurt in the attack. "It is extremely fortunate that no-one was in it at the time," he said.
"If so, I have no doubt in my mind that we would be hearing about someone who was seriously injured or worse."
The front window of the house was smashed in the attack and there is smoke damage on the building.
A window at the house has now been boarded up.
The police have appealed for anyone with information to contact them.