Belfast court: three charged over Twelfth riots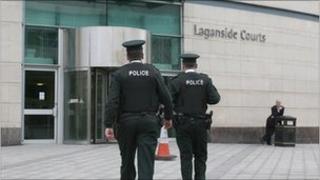 Three people have been charged in connection with rioting in Belfast over the period of 11 - 12 July.
Two youths - aged 16 and 17 - were charged with taking part in disturbances in Ardoyne, north Belfast, on 11 July.
A 24-year-old man has been charged with riotous behaviour, having an offensive weapon and resisting arrest.
The charges relate to trouble at Broadway, west Belfast.
The 16-year-old boy is due to appear in court later on Tuesday.
The others are due to appear in court in August.