Sinn Fein meets David Ford to discuss Brendan Lillis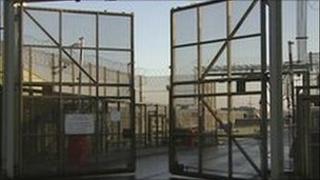 A Sinn Fein delegation has met Justice Minister David Ford to discuss the continued imprisonment of republican prisoner Brendan Lillis.
Lillis suffers from a severe arthritic condition.
On Tuesday, parole commissioners ruled he would not be released on compassionate grounds.
After Wednesday's meeting, the Department of Justice said the issue was "currently under active consideration by parole commissioners".
West Belfast MP Paul Maskey, who was part of the Sinn Fein delegation, said: "It's quite clear that this man is very seriously ill and causes no harm or grief to anyone
"Our point is that anyone who is too ill to stand trial, how can that person then be a danger to the public when they can't even attend a court appearance?
"So we want to see Brendan Lillis released on compassionate and humanitarian grounds."
Lillis was sentenced to life in 1977 on explosives charges but was released on licence in 1993.
It was revoked in 2009 after he was re-arrested on robbery charges.
The reason given was that he was "a danger to the public" and he was told he would have to serve the rest of his original life sentence at Maghaberry Prison.
Earlier this year, it was decided Lillis was too ill to stand trial, although he could face charges if his health improves.
On 19 July, the Prison Service said there were not sufficient grounds to justify his release on compassionate grounds. The case was then passed for consideration by the parole commissioners.
There were a number of campaigns calling for his release this month. A motion was passed at Derry City Council and a protest camp was set up in Londonderry.
His partner, Roisin Lynch, also began a hunger strike on 21 July in protest at his continued imprisonment.