Northern Ireland to receive first £5-only cash machine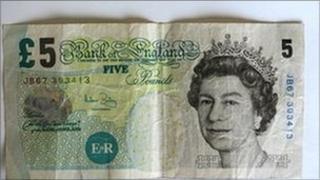 The first cash machine to issue only £5 notes will be introduced to Northern Ireland.
The scheme has already been launched in other parts of the UK and the first ATM in the region will be installed in Glengormley.
No matter how much is withdrawn, the full amount will be dispensed in £5 notes.
Bank Machine's managing director Ron Delnevo said the "the fiver was almost extinct three years ago".
The company has started a 'fight for fivers' campaign which aims to dispense more than 20m £5 notes to its customers in 2011.
"The only specimens that could be found were limp and ripped. Our 'Save Our Fivers' campaign has breathed life back into them, and resuscitated a fondness amongst the UK public for fivers as the most practical of notes," Mr Delnevo said.