Stakeknife accused Scappaticci gets tribunal representation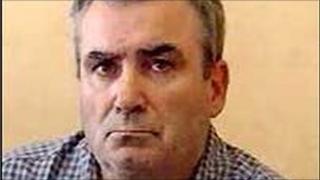 A man who denies he was a senior IRA member, and an informer, has been granted extended legal representation at the Smithwick Tribunal in Dublin.
The tribunal is investigating allegations of Garda collusion in the murder of two senior RUC officers.
Freddie Scappaticci denies being the agent in the IRA known as Stakeknife.
However, his legal team has been given the right of representation on occasions when that agent's name is mentioned in tribunal proceedings.
Judge Peter Smithwick said this was because the public may identify Mr Scappaticci with Stakeknife.
The judge said there were three allegations made against Mr Scappaticci with relevance to the tribunal.
One is that he was the agent Stakeknife working within the IRA on behalf of the British security services; the second that he was the handler of Garda Owen Corrigan alleged to have colluded with the IRA and lastly that he was involved in the abduction and murder of Tom Oliver in County Louth.
The tribunal is investigating the deaths of Chief Superintendent Harry Breen and Superintendent Bob Buchanan
The senior police officers were shot dead in an IRA ambush in south Armagh after meeting Irish police in Dundalk in March 1989.
Garda Owen Corrigan was named as an IRA source by DUP MP Jeffrey Donaldson in the House of Commons in 2000.
Last week Mr Corrigan told the tribunal that "nothing was further from his own ethos and beliefs".
At the tribunal on Tuesday, a former RUC Detective Constable said he had been cautioned about Mr Corrigan over 10 years before the murders of the two officers.
'Careful what he said'
Giving evidence from behind a screen, Witness 9 said he had been told by a Garda superintendent in Monaghan to be "careful of what he said" if he was ever in the company of Mr Corrigan.
Witness 9 admitted under questioning by counsel for Mr Corrigan that it was his own assumption that the caution related to collusion with the IRA, and the warning could have referred to any number of matters.
He also said he had warned Bob Buchanan about using the same car each time he visited Monaghan and Dundalk Garda stations because people could be watching his movements.
But he said Mr Buchanan, who was a Christian, said: "What God has ordained, I can't pass it over."
The tribunal also heard from two members of the Garda.
Kidnapped by IRA
Retired Detective Edmund Sheridan told how he had been kidnapped by the IRA in 1975.
He had just crossed the border at Hackballscross when he was stopped by an IRA checkpoint.
He said he had only been stationed at Dundalk police station for a year, but that the IRA knew who he was.
The detective was taken away for six hours and questioned before being brought back to his own car and sent home.
The tribunal heard that the RUC had intelligence in 1985 indicating that a Garda officer in Dundalk was too close to the IRA.
However, former Assistant Garda Commissioner Thomas Ainsworth said that if that was the case, those concerns were not passed along the proper channels.
Mr Ainsworth said that if there was evidence, then it would have been very strange for it not to have been passed from the RUC chief constable to the Garda commissioner or to himself.
He also said it was "an impossibility" that the border ambush in which Superintendent Buchanan and Chief Superintendent Breen were killed would have been a spur of the moment decision.