Danny Kennedy admits he has no funds to build A4 bypass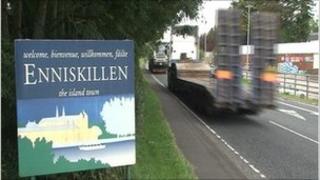 Transport Minister Danny Kennedy has admitted his department does not have the money to build the A4 bypass.
He was speaking after announcing the preferred route for the proposed A4 Enniskillen Southern Bypass.
The minister said his job was to have schemes agreed so that when funds became available work could proceed.
The plans are open for public consultation until the end of August.
The route chosen by the minister would lead from the A4 Belfast Road, in the vicinity of the Killyhevlin Industrial Estate, to the A4 Sligo Road, in the vicinity of Ashwoods Road.
It will cross the A509 Derrylin Road en route and extend over four kilometres.
A shorter bypass from the A4 Dublin Road to the A509 Derrylin Road is also a consideration.
Mr Kennedy said he had to be "realistic".
"I have to be absolutely honest and say, as of today, I do not have the money to fund the Enniskillen bypass," he said.
'Competing priorities'
"That is not to say that I, and my officials shouldn't be continuing to bring forward projects and schemes, to put in place the necessary planning permissions and the statutory approvals, so that when money becomes available we can act quickly and proceed with a project of this nature."
The minister said there were "competing priorities" within the entire executive.
"As regional development minister, it is my job to look strategically as to where we want to be in a number of years, not just to say we don't have any money, we can't do anything, but to look forward to the opportunities that are provided by a scheme of this nature."
Mr Kennedy said that when funds became available and if the project went ahead, it would provide "major benefits" in terms of improving safety and journey times for traffic currently passing through the town.
Information on the preferred route corridor for the Enniskillen Southern Bypass along with feedback forms and Roads Service contact details will be available at three public display venues - Enniskillen Town Hall, the public library and the Roads Service Section Office at Castle Barracks.