No anchor in Ballycastle after Marine Hotel closure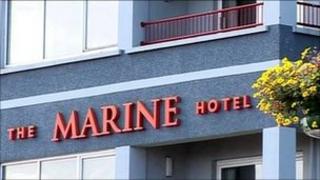 Like many seaside towns, Ballycastle relies heavily on its tourist trade.
But this year, it has no major hotel to keep the visitors anchored in its port.
The Marine Hotel has given many happy memories to locals and tourists alike for generations, but it closed at Christmas and then went into receivership in May.
It is easy to see why the business community in the town are worried about the closure.
While I was there last Thursday, many tried the door and peered in through the windows, wondering why it was not open for business before moving on.
You can see why they are confused. When you peer in through the etched windows, tables are still laid out for dinner, the cutlery is sitting beside clean white china, condiments and silver candlesticks are placed on top of crisp white linen.
But despite appearances, you will not get a reservation here.
Paul Cochrane from Ballycastle Chamber of Commerce said the loss of the hotel had been a "major blow" to the local economy.
"It's a focus point for when tourists come to Ballycastle if they want to stay and with the hotel being closed at the moment, that focal point has been lost," he said.
"The businesses are working very hard to pull that together. The bed and breakfasts and the different businesses are doing a lot of advertising to try and promote the town but without that flagship hotel it really does put us under pressure."
It is not only the business community that are trying to think of ways of doing things differently. Local clubs and groups used the Marine Hotel for dinners, celebrations and fundraisers.
Some local brides are putting off setting their wedding date until they find out what is happening with the seaside venue.
Lying vacant
Dessie Donnelly, from McQuillan GAC, said they are finding it difficult to get a function room to hold their annual dinner close to home.
"It looks as if we might have to go outside the town, possibly even as far as Ballymena or over towards Portballintrae or Portrush direction for our events this year," he said.
"The Marine catered for most of the GAA clubs in north Antrim over the last number of years and they're all in the same boat like ourselves. They have to look for a new venue."
As I stood filming at the front of the hotel, a couple of elderly gentlemen stopped to ask me what I was doing.
When I explained, they told me they had visited the hotel every morning after buying their morning paper for a cup of tea, a chat and a little bit of quiet time.
They said it was awful to see the hotel lying vacant and voiced concern that the longer it was left, the more likely it was to be vandalised and thus the less appealing it would be to a new owner.
They were not the only people to express disappointment.
Moyle District Council does not have a leisure centre and another benefit of the hotel was its leisure facilities.
'Meeting place'
A group of elderly residents joined me on the seafront to explain how the loss of the hotel pool has impacted greatly on their lives.
Eamon Kavanagh said: "The winters up here tend to be longer than most places. It seems colder, darker and so the pool was a great meeting place."
Paddy McNally told me: "Not only was it good to keep our joints going and keep us mobile but we got friendly with all the other participants and it was like a little club.
"We missed it when it closed at Christmas. We really miss it - it's a big chunk out of our week and we haven't been able to replace it with anything else."
The owner, property developer, Mervyn McAlister, was not available for comment but it is believed the hotel will be put up for sale in the autumn.
Independent Moyle district councillor, Padraig McShane, said he hoped the new owners would continue to use it as a hotel.
"We're hoping to have the new owners up and running in the establishment before Christmas and to catch the Christmas market," he said.
"There's very little that we can do in relation to the closure itself - it is a private enterprise. But we're hoping the private sector will return it to its former glory."