Red Sky company takeover protects 60 jobs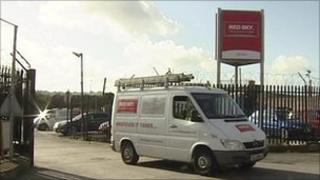 A company within the troubled Red Sky construction group has been taken over.
Bel-Air Refrigeration, bought by Red Sky a few years ago, has been run by administrators since the whole group went into administration in April.
The acquisition by Belfast-based BI Electrical Services will safeguard 60 jobs within Bel-Air.
The Housing Executive terminated all its maintenance contracts with Red Sky amid allegations over the company's work practices.
BI Electrical Services (NI) Ltd, a specialist in commercial and industrial electrical installation contracts and maintenance, acquired the trade and assets of Bel-Air for an undisclosed sum
Managing director Ian Humphreys said the company intended to build on the 60 jobs saved.
He said Bel-Air had increased its order book in the past two months "in excess of £1m with new works".
"Whilst Bel-Air has been acquired by new owners it will continue trading as normal.
"The acquisition of Bel-Air provides a strategic fit with our existing business, providing electrical services to the public and private sector across Northern Ireland.
He said the two companies would continue to trade independently.
Mark Montgomery of Bel-Air Services, who has worked for the company for over 20 years, said the acquisition provides a solid foundation for continued growth.
He said: "The acquisition secures the future of Bel-Air given that BI Electrical Services is a very well established business and there will be new opportunities that will arise as a result."