Chris McNeill to undergo heart operation at Royal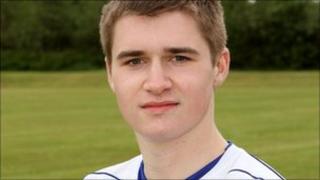 The father of a teenager who collapsed at a Milk Cup football game in Portstewart has said his son is a fighter.
Chris McNeill, 17, collapsed seven minutes into the game between County Londonderry and County Antrim in the Premier Section on Monday night.
He was revived by a doctor whose son was playing in the game and members of the St John Ambulance.
Denis McNeill said their actions saved his son's life.
The teenager stopped breathing after collapsing on the pitch.
His father Denis, said what happened was an "absolute nightmare".
"His sister scaled the fence and ran across the pitch, by the time she got there he was still not moving so I went over there as well.
"Dr Michael Healy attended to him. He was given the kiss of life and heart massage.
'Gone'
"Dr Healy asked and insisted on a defibrillator and Christopher was shocked back into life.
"He was gone for a very short period. He was revived and rushed to Coleraine Hospital."
Mr McNeill said that after a "difficult night", his son started to perk up on Tuesday morning and by lunchtime he was "almost getting back to being the Christopher we know and love".
"The doctors were very pleased with a brain scan that was done and with a couple of heart scans and ECGs but they felt, understandably that they wanted to get to the bottom of the problem and get a solution so for that reason we are now at the Royal Victoria Hospital today," he said.
"He's about to undergo surgery on Wednesday afternoon in an attempt to fix things.
"Their aim is to burn away what is causing this problem around his heart. They're very hopeful that it is going to be very successful.
"This operation is necessary to ensure that the same thing that happened on Monday night doesn't happen again. It is not a question of do you want this operation, this has to be done."
The teenager is going into his final year of sixth form at Dalriada School in Ballymoney in September as head boy.
His father said apart from having asthma "on and off", his son had no previous medical conditions.
"He's always been a keen sportsman, right from primary school through secondary school," he said.
"He has always been interested in sport, he is one of these people who is annoyingly good at all sorts of sports.
"Chris is a fighter, a determined young man, hopefully he'll keep going and the operation will be safe and successful, and we look forward to his recuperation after that."