Superquinn collapse: 10m euro fund welcomed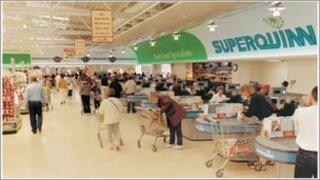 Economy Minister Arlene Foster has welcomed the creation of a 10m euro (£8.8m) fund to pay suppliers to the Irish supermarket group Superquinn.
The chain collapsed a week ago and was put into receivership.
About 15 companies in Northern Ireland, owed an estimated £5m by it, expressed fears they may never get paid.
Musgrave, the Cork-based company which plans to buy Superquinn, said it had created a 10m euro fund to help pay Superquinn's suppliers.
Economy Minister Arlene Foster, who had raised concerns with Musgrave, welcomed the news.
"For a lot of small suppliers they have the difficulty that, either they can't obtain credit insurance, or they couldn't afford credit insurance," she said.
"So when Superquinn went under they had real difficulties because their cash flow was cut off."
However, with industry estimates suggesting suppliers could be owed as much as 100m euros, the issue remains far from settled.
Meanwhile, Superquinn's proposed sale to Musgrave is to proceed after a petition seeking to have the company put in examinership was withdrawn on Wednesday.
The High Court in Dublin was informed that the application by Superquinn for examinership was being withdrawn after the Musgrave chain announced the establishment of the 10m euro fund to reimburse some creditors.
Brian O'Moore, SC, for the receivers and Bank of Ireland, told Ms Justice Mary Finlay Geoghegan that matters had been resolved between the parties and the petition seeking the appointment of an examiner could now be struck out.