Reducing cancer risk - first for NI hospital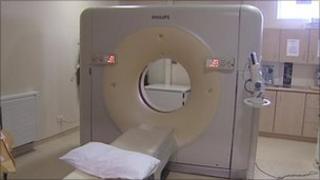 The Ulster Hospital has become the first centre in the UK and Ireland to introduce new equipment which dramatically reduces the amount of radiation when scanning patients.
The small white metal box, which houses a revolutionary piece of hardware, takes three dimensional images of the patient.
The "iDose" also enhances the quality of the scan picture.
The new technology was purchased entirely with fundraising money.
Consultant radiologist, Dr Peter Ball, was instrumental in bringing "iDose" to the hospital,
"This is great news for the hospital and for patients," he said.
"To be first in the UK and Ireland pays tribute to all those who helped fundraise. Patients will benefit greatly, we are all very excited about the equipment and its potential. "
Medics are describing the "iDose" as a breakthrough in CT imaging. It can provide medical staff with images of the same quality but at a fraction of the radiation dose.
Speaking to the BBC, Dr Ball said CT is a vital tool in the investigation and management of patients.
"As radiologists we are acutely aware of the radiation dose our patients receive and make every attempt to minimize this exposure. iDose allows us to tailor our CT scanning protocols to each individual patient," he said.
"We already have been able to achieve significantly lower radiation doses of up to 50 per cent while maintaining the diagnostic quality of the scan."
Computed tomography or CT/CAT scans, help doctors detect various illnesses from cancerous tumours to kidney stones. However, concerns have been raised about the safety of such procedures as the scan procures a large amount of radiation.
As an average CT scan can produce 500 times more radiation than that of a conventional X-ray - it does increase the risk of cancer. Dr Ball said staff are conscious of exposing patients to radiation.
"This is a major development in lowering that risk, we are delighted that the Ulster Hospital is the first, not only in Ireland, but the UK, in being able to deliver it to local patients," he said.