Portuguese man denies raping and threatening to kill wife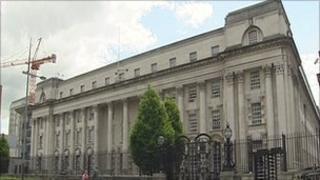 A man charged with raping his wife allegedly told her he would have her killed and then flee Northern Ireland, the High Court has been told.
The accused, a 37-year-old originally from Portugal, also threatened to burn down their house in Dungannon, County Tyrone, it was claimed.
He cannot be named in order to protect the identity of the alleged victim.
The man denies charges of rape, threats to kill and threats to damage property over alleged incidents earlier in July.
His lawyer told the court the accusations were only made after he told his wife he was leaving her.
He is alleged to have carried out the attack following a row between the pair on 15 July.
It was claimed that the man committed a series of sexual assaults on her after she went to bed.
Four days later he returned from work to find all his clothing outside the home, the court heard.
Opposing bail, Crown Counsel Barry Valentine said the woman claimed she allowed him inside out of fear.
"He said he would kill her or get someone else to kill her and that he would return to Portugal," Mr Valentine said.
"He also said he would burn the house down, and she also alleges that he stole the contents of her money box, about £300."
Both the accused and his wife have undergone forensic medical examinations, with final results still awaited.
'Simple denial'
Blaine Nugent, defending, told the court his client was adamant the alleged offences did not happen.
He said: "If this matter were ultimately to come to trial it's a simple denial that the matter ever took place."
Mr Nugent added that the accused claimed he had previously talked of leaving the family home.
"It's in the aftermath of that, he says, that these allegations have arisen," the barrister said.
Granting bail, Mr Justice Weatherup said the awaited forensic analysis - which could take up to three months - should determine whether there was sexual contact between the pair.
The judge ruled that the accused could be released to live at an agreed location on condition that he has no contact with his wife and keeps out of Dungannon.
He is to report daily to police, with his passport also surrendered.