'Visits denial' for dissidents on dirty protest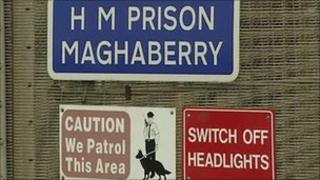 Prisoners at Maghaberry prison are being denied family visits because they refuse to pledge not to resume their dirty protest afterwards, the High Court has heard.
William Wong and Michael Johnston have mounted a legal challenge over the denial of legal and family visits.
Their lawyers claimed the undertaking was being sought before they could shower and see relatives.
A judge has ordered more details on the allegation.
The counsel for the Prison Service said it was the first he had heard of the claim.
Both men are being held in the separated regime at Roe House where dissident republicans have been staging a protest over conditions.
Maghaberry chiefs have stopped their access to visits due to health and safety concerns for staff, other inmates and the public.
Mr Johnston, 28, from the New Lodge area of north Belfast is on remand charged with possession of timer power units.
Wong, 22, and formerly of Dalton Close, Armagh, was jailed earlier this month for a minimum five years for having a pipe bomb.
Their lawyers claim the prohibition breaches their rights under the European Convention on Human Rights.
With leave to seek a judicial review already granted, the case returned to court on Wednesday for an update on steps taken by prison authorities to facilitate contact.
Tony McGleenan, for the Prison Service, said a video-link facility for legal consultations is to be installed in Roe House by Friday.
A separate phone line will also be provided, he confirmed.
Mr McGleenan said: "If the prisoners are co-operative with health and safety concerns there is no prohibition on visits.
"There is no punishment or adjudication in place. There are steps the prisoners can take if they wish to see (their relatives)."
Affidavit
Mr Johnston's barrister, Sean Devine, argued that the prisoners were not opposed to taking a shower before visits.
He said: "It seems as though the visit is conditional upon the prisoner in question coming off the protest, which they are not prepared to do."
Counsel for Wong made the same claim, and also alleged that a 16-minute telephone conversation between his client and lawyer was cut off because he was accused of taking too long and restricting the access of other inmates.
The judge hearing the challenge is still to decide whether to press ahead with an urgent full hearing.
Adjourning the case until next week, Mr Justice Weatherup directed the Prison Service to provide an affidavit in an attempt to clear up the disputed claims.
He said: "I need to know the answer as to the factual issue of whether or not there are restrictions being imposed on the time used on legal telephone conferencing.
"Secondly, there is the factual dispute about whether or not it is a condition of people attending family visits who want to shower, that they do not go back on protest. That they give an undertaking."