Funeral of drowning victim Sean McNair being held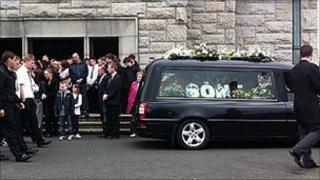 The funeral of Londonderry teenager Sean McNair is taking place at St Mary's Church in the Creggan area.
Sean was swept away by strong currents when he jumped off Rathmullan pier in County Donegal with friends almost two weeks ago.
Father Stephen McLaughlin described the 17-year-old as "a young fellow who loved life" and who endeared himself to everyone because of his gentle nature.
He also paid tribute to all those involved in the week-long search.
Diving teams, the coastguard and local people looked for the teenager before his body was found on Sunday, 24 July.
Fr McLaughlin said that in the darkest moments of these days the McNair family experienced the brightest signs of human kindness in the outpouring of compassion.