Drumcree Orange men attempted to raise tensions: Sinn Fein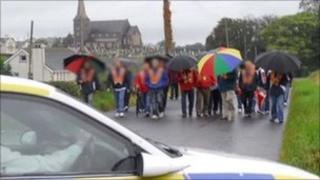 The Orange Order attempted to raise tensions in Portadown by deliberately breaching a Parades Commission ruling, Sinn Fein MLA John O'Dowd has said.
His comments came after about 30 Orangemen marched from Drumcree Church to the edge of the nationalist Ballyoran Estate on Wednesday.
Residents said there were no police on the Drumcree Road to stop the march.
Mr O'Dowd said marchers had breached the ruling "in the most sensitive area of parading in Northern Ireland".
He called on the order to engage in dialogue with residents to "resolve the marching issue".
"This is not simply a minor incident, this has been a deliberate attempt by an organisation that knows exactly the sensitivities around the Drumcree issue and they decided to continue to march," he said.
"The actions which were taken last night were not of an organisation which was seeking dialogue or a peaceful resolution to the parading issue.
'Emotive issue'
"It was a deliberate attempt to raise tensions."
DUP Upper Bann MP David Simpson said: "It remains unclear whether the Orangemen were formed into formal parading ranks or whether they were just casually walking.
"One thing which is not disputed is that there was no Orange parade down Garvaghy Road on Wednesday evening.
"Unlike others, rather than rush out inflammatory and unfounded statements about collusion, I want to garner the full facts around this event and then proceed from there."
Police said they were investigating reports that a Parades Commission ruling was breached.
Chief Inspector Anthony McNally said that, unfortunately, police "were delayed in attending the parade".
"Inquiries are now underway into this incident and at this stage we are working to establish whether the commission's determination was breached and I am appealing to anyone who was in the area last night, or has information, to contact us so that we can take this investigation forward," he said.
"There is no doubt that this is an emotive issue in Portadown and the community can rest assured that we will do our utmost to bring anyone who has broken the law before the courts."
The Orange Order has declined to comment until it had "all the facts".
It has been banned from parading along the town's Garvaghy Road since 1998.