Former Warrenpoint golf club members sue club over cash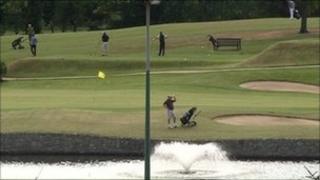 A case in which two former members of Warrenpoint Golf Club are suing the club for breach of contract has been adjourned.
They want back the £4,500 they lent the club in 2005 to buy part of the grounds that had previously been leased.
The club has said it is unable to pay the members. The case is due to be heard in Belfast County Court on Thursday.
Warrenpoint Golf Club has won many amateur competitions.
One of the club's most prestigious competitions was twice won by Darren Clarke, and once by Rory McIlroy.
Up until 2005 the club did not own all of the land that it used.
It was leased from the Hall Estate which owns Narrow Water Castle.
Members decided to buy the land at a cost of £4.1m. To raise the money they each agreed to pay £4,500.
Waiting list
Between 2005 and 2008, members who left the club were repaid the loan.
However in 2009, when more wanted to leave they were told they could not get their lump sums back.
Warrenpoint golf club offered to pay each of them £772 a year instead of a lump sum, but not all departing members found this acceptable.
At the beginning of this year, some members who had decided not to rejoin in 2011 asked for their loan back.
The club announced it was introducing a levy of £150 on top of its annual fees.
That levy was partly to go towards paying back the £4,500 to members who wanted to leave.
Financial challenges
In recent months a meeting of members was held.
It it understood it was addressed by an insolvency expert and a barrister who explained the financial and legal challenges facing the club.
On Tuesday night another meeting of former members was held to explain that the club had no money to pay them back and that it is facing litigation.