Matt Baggott defends police actions during Kerr arrests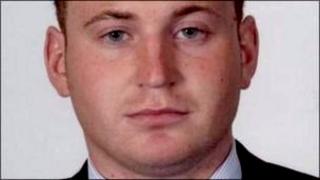 The chief constable has defended a series of raids carried out by police investigating the murder of Ronan Kerr.
Earlier Martin McGuinness had criticised aspects of the PSNI operation.
Five men were arrested on Tuesday, but later released. A 23-year-old woman is still being questioned.
Chief Constable Matt Baggott said the PSNI investigation was complex and would take considerable time to complete.
"The Policing Board is the appropriate place for scrutiny to take place, particularly during a live and sensitive investigation. For that reason, the PSNI will not be commenting further," he said.
A 22-year-old man from Coalisland, was one of five people arrested.
The deputy first minister said his arrest had caused anger in east Tyrone.
Mr McGuinness said he was "completely innocent" and had been taken from his home in the "full blaze of publicity".
"This was according to the police a major operation, it was described as such by the media and there was extensive media attention placed on homes and on business premises," he said.
"From speaking to the family of the young man and the local community, it is obvious to me that we are dealing with a situation where a young man who was completely innocent, and who was in fact, in the USA at the time of the killing of Ronan Kerr."
Innocent
Mr McGuinness said it was very important within nationalist and republican communities that innocent people and people who are clearly seen to be innocent "should not be arrested in this fashion".
"They were basically held just over one day. That doesn't say to me that this was a serious attempt to find those who were responsible for the killing of Ronan Kerr," he said.
Mr McGuinness said he supported the police in their attempts to find those responsible for Ronan Kerr's murder, but he criticised their investigation.
"He was a very decent and fine young man, but I have to say looking at this recent operation, it raises very serious questions about the conduct of how that inquiry is continuing."
Responding to Mr McGuinness's criticisms, the chief constable said the investigation into Ronan Kerr's murder was being "conducted under the law".
"Future charges remain the responsibility of the independent Public Prosecution Service," he said.
"Any comment is therefore premature. My assurance is that the investigation will remain methodical and relentless and will continue to be absolutely impartial and completely free of political influence.
"I am very satisfied with the professionalism and progress to date and will be reporting on this to the Policing Board in due course."
DUP East Londonderry MP, Gregory Campbell said the police raids in mid-Ulster would have been the result of "information and intelligence that had been built up over a period of weeks and months".
"If there are mechanisms which the police carried out that local people find difficult to understand, or want them explained, then there are mechanisms for establishing that through the Policing Board," he said.
Traditional Unionist Voice leader Jim Allister said Mr McGuinness's "republican mask has slipped".
"Can anyone imagine a senior political figure coming out with such trenchant criticism of police officers conducting an investigation into the brutal murder of a young constable anywhere else in the United Kingdom?" he asked.
Constable Kerr was killed by a car bomb outside his home in Omagh on 2 April.
Raids
A number of people have been questioned in connection with his murder.
The five men were arrested on Tuesday during a series of raids involving 200 officers across three counties.
Seven searches were carried out in Coalisland, Toomebridge, Bellaghy and Ballyronan.
Constable Kerr, who joined the police in May 2010, was the second officer to have been killed since the Royal Ulster Constabulary became the PSNI in 2001.
Dissident republicans were blamed for the murder.