Breeze block dropped from bridge on anti-poaching patrol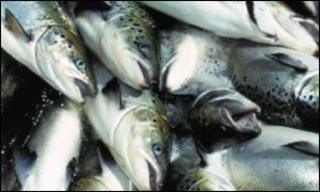 A Loughs Agency official has said a member of his staff could have been killed when a breeze-block was dropped from a bridge onto a patrol boat.
The incident, at Lifford Bridge in Strabane, was one of a number of recent attacks on workers carrying out anti-poaching patrols in the Foyle area.
The agency's director of conservation and protection, John McCartney, said workers had been assaulted and had stones thrown at them.
Two have had to be hospitalised.
Mr McCartney said his staff were under "great pressure" with seven serious assaults in the last few months.
He explained they were also being targeted by "home-made booby-traps".
"Pieces of wood with eight-inch nails driven through them have been buried in the ground when my staff are trying to use vehicles and boats - so obviously what happens is they puncture the vehicle or boat tyres," he said.
"If someone happened to stumble or fall into that, they could do themselves very serious damage."
Agriculture Minister Michelle O'Neill said she was aware of the problem and had raised it during a recent North-South Ministerial Council meeting when other ministers shared her concerns.
The minister said that the problem must be dealt with through the courts.
"We can only hope that because there are some prosecutions pending for assault on staff, that will act as a deterrent and people will realise that this action isn't going to be tolerated," she said.
"We need to do all that we can to protect those people to go and do their job in safety."