Nama lists properties it now controls in NI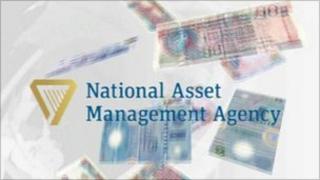 The Irish government's National Assets Management (Nama) has for the first time given details of properties it controls in Northern Ireland.
Nama has taken control of virtually all land and development loans which were advanced by the Dublin-based banks.
In some cases it has taken "enforcement action" on these loans by placing the related properties into receivership.
It has now given details of these receivership actions.
Many of the receiverships have already been reported. They include the huge portfolio which was once controlled by Dromore developer Sam Thompson.
Mr Thompson, who is now bankrupt, had borrowed heavily from Anglo Irish Bank.
Also on the list are properties which were once owned by another bankrupt Anglo borrower, Mervyn McAlister.
Another notable site on the list is a 40 acre site at Drumahoe outside Londonderry which was owned by McDaid Developments (Ireland).
Many of the properties on the list are currently being offered for sale.
Loans which have been taken over by Nama but which have not been subject to enforcement action remain confidential.