Report says more protection needed for horse mussels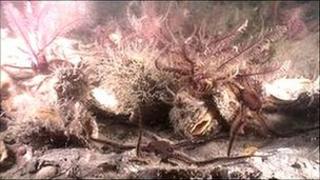 Northern Ireland's environment minister has added his voice to those calling for more protection for Strangford Lough, a marine nature reserve on the east coast.
It follows the publication of a £1m research report by Queen's University, Belfast, to find out why horse mussels were dying on the bed of the lough.
The mussels are a shellfish that form large reefs and provide a critical habitat for dozens of other species.
They are one of the key reasons why the Lough is designated as a special area of conservation.
When it was discovered, in the late 1990s, that many of the mussels were actually dead, the EU warned that if the remainder weren't immediately protected and their restoration assured, infraction proceedings would follow with the potential for massive fines to be imposed.
But, following that warning, not much happened.
The two Northern Ireland government departments responsible for policing the lough couldn't agree a way forward.
The Department of Environment had the responsibility to protect the mussels.
Re-introduction
The Department of Agriculture sided with the interests of local fishermen and wouldn't agree on critical non-disturbance zones and restrict pot fishing in some areas.
It was only when two formal complaints were made to Europe that a £1m research project began to try to re-introduce the horse mussel to the areas where they had died off.
But despite claims by the government in 2004 that "appropriate regulatory action under Article 6.2 of the Habitats Directive has been undertaken in an attempt to prevent deterioration of the modiolus reefs", in fact no new "regulatory action" took place until this year.
In March this year two non-disturbance zones were introduced to try to reduce the amount of pot fishing taking place amongst the mussel reefs.
The university report says "that signs of natural recovery might be expected within 20 years ... provided there is no further disturbance".
Environment Minister Alex Attwood says that he fully accepts the need for total protection.
"It is now for both departments to use their powers to introduce legislation to make that happen," he said.
"For my part in DOE, I will introduce regulations to restrict anchoring of boats and diving in affected areas as soon as possible."
The Department of Agriculture Minister, Michelle O'Neill, agrees that "some positive intervention is considered necessary for the horse mussels".
No agreement
Following the report's publication, she said: "I will discuss with stakeholders possible measures to give additional protection to the remaining horse mussels in line with the report's recommendation."
But there is still no agreement over the non-disturbance or fishery exclusion zones.
The latest report proposes a large single zone instead of two small areas as at present.
It says this would provide total protection for the remaining reefs.
However, in the past a similar proposal was turned down by Department of Agriculture representatives.
The BBC understands that if more protection isn't agreed, new protests may well be sent to Brussels over the matter.
And that could have a very expensive outcome.