Liam Adams documentary 'objectionable' says judge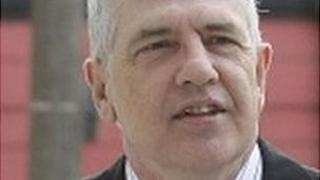 A judge in an extradition case involving Sinn Fein leader Gerry Adams' brother has described a television documentary as obnoxious.
Liam Adams is wanted in Northern Ireland to answer 18 charges of alleged abuse against his daughter.
The High Court in Dublin was shown a UTV Insight documentary in which allegations of abuse against Liam Adams were made in December 2009.
Mr Adams' lawyer said it had portrayed his client as a "monster".
Sinn Fein leader Gerry Adams repeatedly said in the documentary that he believed his niece was abused by her father.
Liam Adams' lawyer said the documentary presented him as a a paedophile on the run, a wife-beater and put out allegations as fact, without the slightest equivocation.
This and other material were so prejudicial, he argued, that Mr Adams could not get a fair trial in Northern Ireland.
Mr Justice Edwards said he agreed the UTV documentary was "objectionable and obnoxious", but said it was not impossible that the courts in Northern Ireland could be structured to deal with the very serious problem the media material created.
The alleged offences Mr Adams is charged with date from March 1977 to March 1983. The 55-year-old, with a previous address at Bearnagh Avenue in Belfast, denies all the charges.
He handed himself in to police in Dublin last year after a European Arrest Warrant was issued by the PSNI.
Aileen Donnelly, senior counsel for the State, told the court that any prejudice which could arise from pre-trial publicity and statements by Gerry Adams were a matter for a judge in Northern Ireland.
She maintained the argument that it was self-evident the case would be stopped going to trial in the north was a fallacy.
"There is a system up there taking things into account. That can only be done by Northern Ireland," she said.
The barrister said any arguments over the delay in bringing charges was a matter for the trial court and stated there would be a "fade factor" between the publicity surrounding the alleged offences and any trial.
Mr Justice Edwards reserved judgment until 28 September.