Magherafelt business with money to burn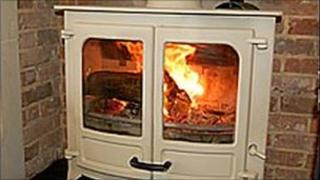 We are all feeling the squeeze when it comes to oil and gas prices.
Utility bills are sky high, and if you are a business with a big premises to heat then you will be especially sensitive to it.
Paul Stewart runs the JC Stewart supermarket in Magherafelt and he has found an alternative.
Paul has converted his heating system to Biomass wood pellets, but he said it is not a step back to the olden days of heating a building by wood-burning fires. This is the new generation of stoves.
The story begins at a factory in Enniskillen. Most of the goods being piled into the lorries leaving Balcas are big timber orders for construction sites, or posts for fencing.
But there is plenty of sawdust left over and the company have realised that there is money to made.
Now they sell Brites wood pellets, made from compressed wood residue. And that is what Paul Stewart has opted to use as his fuel shop's heating and hot water systems.
He said: "While oil and gas prices are fluctuating, at least I know how much I'll be paying, and it's normally cheaper."
According to Paul it is not only made good business, it's also improved the company's carbon footprint. Biofuel stoves are recommended by the Carbon Trust, and his firm managed to get a loan from them to cover the switch over.
He says it is saving him money and giving another local firm an extra source of income from selling their by-product.
"It's a win-win situation," said Paul.