Air France disaster pilots 'made errors', report says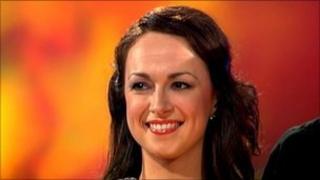 Air France pilots made a series of errors on a flight that crashed in 2009 killing 228 people, partly due to a lack of training, a report has said.
One of those killed on the flight from Rio to Paris was 28-year-old Eithne Walls from Ballygowan, County Down.
France's BEA authority said the pilots ignored repeated stall warnings and failed to follow textbook procedures.
The investigation revealed that passengers were not given any warnings as pilots struggled to avoid the crash.
It issued 10 new safety recommendations including more training on how to fly aircraft manually, a skill that some industry critics say has been eroded by computers.
The latest BEA report found that pilots failed to discuss repeated "stall" alarms as their Airbus jet plummeted 38,000 feet and hurtled into the ocean at 200 km (125 miles) per hour.
The pilots "did not formally identify the loss of altitude" despite an alarm ringing for nearly a minute, the report said.
However, in a statement released at the same time as the BEA, Air France defended its pilots saying the altitude-loss alert system had malfunctioned.
"Nothing at this stage can allow the crew's technical competence to be blamed" for the crash, the airline said.
"The crew on duty showed professionalism and stayed committed until the end to operating the flight."
Irish dancer
Ms Walls, a doctor and talented Irish dancer, was travelling home from a holiday with two friends from the Republic of Ireland- Aisling Butler from County Tipperary and Jane Deasy from Dublin.
The friends had graduated from Trinity College, Dublin two years before the accident.
Both Air France and the plane maker Airbus could face legal action based on the report's findings.
However, officials have insisted that the BEA's findings would not amount to an official attribution of blame for the disaster.
Black box recorders have already shown terrifying details of the moments before the crash and, in Paris, experts are still carrying out DNA tests to identify the remains of many of those killed.