Jason Smyth dreams of Olympics double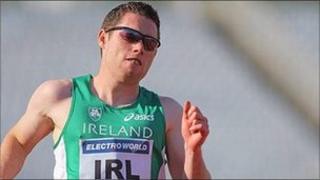 Comparisons to the fastest man in history aren't easily earned.
A matter of weeks after Jamaican sprinter Usain Bolt dominated the opposition on his way to Olympic glory in Beijing, Jason Smyth became the star turn of the Paralympic sprint competition.
He proved himself to be a class apart as he won gold medals in the 100m and 200m, both in world record times.
"It seems so long ago now," he said.
"Also, how quickly the time has flown past. Here we are, a year away from London and, hopefully, I'll be in good shape to do something similar."
Jason is a visually impaired athlete. He has Sargardt's disease, which is a hereditary condition.
Since his success in Beijing, the 24 year-old has been clocking up milestones, becoming the first Paralympian to compete at the European Championships. He reached the semi-finals in Barcelona and this year set a new Northern Irish record at 100 metres.
For the past two seasons Jason has trained in Florida alongside some of the sport's highest profile names, such as former world champion Tyson Gay. Results and confidence show Jason has blossomed in that elite company.
His ambition now is to "double up" and sprint in both the Olympics and Paralympics next summer, which would be a first. At present he is just four one-hundredths of a second outside the qualifying standard for the mainstream competition in London - and his attempt to double up is inevitably attracting a lot of interest.
"Yes I want to qualify and get the Olympic 'A' standard." he told me.
"But it's more about being the best I can be, achieving my potential. Another thing, I suppose, especially for people with disabilities, is that it shows that nothing's impossible.
"That if you want to do something, if you put in the work, it's very much achievable."