Patricia Kearns is thankful she went for screening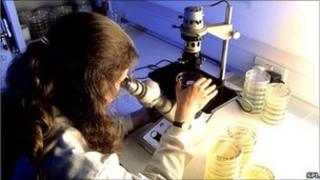 One woman tells BBC News Online how going for a cancer screening saved her life.
Patricia Kearns from Banbridge was diagnosed with breast cancer after being screened in 2009.
"In October 2008 my sister put both our names down in Gordon's Chemists as it was breast cancer awareness month," she said.
Three months later she got a call from Action Cancer to arrange an appointment.
She went to Action Cancer in February and had a mammogram.
Within a week she was recalled: "I had no lumps or history."
"I attended the City Hospital in Belfast where I had five little white pin dots, which they had picked up, removed," she said.
"I was told I could have cancer in any part of my body within a year, five years or 10 years down the line.
"In May I went and had a mastectomy and reconstruction where I had six lymph nodes removed and three of those had cancer cells."
'Shock'
Patricia had more surgery in June to get the rest of the lymph nodes removed. A month later she began a course of chemotherapy.
"To be fit and well and not worried about anything, it was such a shock to my system," she said.
"I have to be really grateful to Action Cancer that they have that service for all women to take up because my story could have been a lot different."
She said a lot of her friends have since gone for screening because of her story.
"I was very very lucky," she said.
I have met girls who in their 30s were diagnosed with breast cancer. Even women in their late 30s and early 40s who have been diagnosed as well, so early screening definitely pays off."
She thinks women who do not take up the offer of free screening are "scared and afraid to be told they have cancer".
Patricia urged them to reconsider not attending.
"It is a shock to the system, but there are organisations there to help you through the different stages. I am grateful for the help and support I received," she said.
"My story could have been a lot different."