Declan Quinn killing: Man 'drove at and murdered cousin'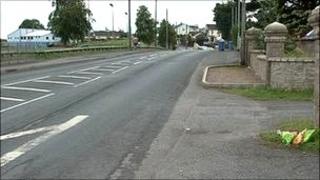 A man allegedly murdered his second cousin by driving straight at him as the victim raised his arms for the car to stop, the High Court has heard.
Declan Quinn was flung into the air and sustained fatal injuries in the hit-and-run collision in Coalisland, County Tyrone, prosecutors said.
The 37-year-old died two days after the 16 July incident
Anthony Quinn, 21, of Maplebrook Hill in the town, is charged with his murder and driving while disqualified.
The court heard the incident was linked to an ongoing dispute between factions of his family.
The accused denies deliberately driving at his cousin.
Anthony Quinn claims he ducked behind the wheel because the victim was standing in the road with a claw-hammer while another man brandished a gun at him.
He was granted bail but banned from entering Coalisland or driving any car.
Declan Quinn suffered brain injuries, a severed spinal chord, broken neck and two broken legs after being hit by a Vauxhall Corsa on the Gortgonis Road.
'Arms raised'
Crown counsel Kate McKay said: "It was alleged the applicant drove directly at Declan Quinn, knocking him over the car bonnet and into the air before making off from the scene."
Witnesses claimed the deceased was one of two men chasing the vehicle on foot, but had stood on the road with both arms raised for it to stop, according to the prosecution.
Anthony Quinn voluntarily went to police a day after his second cousin died, and denied intentionally driving at him.
Opposing bail, Mrs McKay claimed there was a risk he could flee Northern Ireland.
She said it was believed he was taken to County Kildare after the incident where he has family links.
Concern for his own safety was raised, with the court told: "This is something which has raised public hackles in the area where it happened."
Neil Rafferty, defending, said his client had been at his grandmother's house when his father made a panic phone call that three men were trying to break into his home.
The alleged intruders were said to be armed with a gun, sledgehammer and claw-hammer.
"The next thing the defendant heard is his father saying 'they are in' and the phone went dead," Mr Rafferty said.
He told the court the house had been wrecked, and that Anthony Quinn was chased by a Mercedes car and other alleged raiders on foot after he arrived at the scene.
One of them raised a gun, while Declan Quinn waived a hammer at him, it was claimed.
Mr Rafferty said: "This defendant ducked down behind the dashboard and continued to drive, simply to get away.
"He heard a bang and glass came in and he drove off. As far as he was concerned the window had either been hit by a bullet or the claw-hammer.
"It was not until that evening that he found out the tragedy that Declan Quinn, his cousin, had been hit."
Dealing with fears of further violence, Mr Rafferty added: "It has been indicated through the family that there will be nothing more."
Granting bail, Lord Justice Girvan ordered the accused to live at an undisclosed address outside Coalisland.
The judge also ordered him to surrender any passports, banned him from leaving Northern Ireland or contacting witnesses in the case, and told him to report to police daily.