Mark McGovern's family in GAA call after coma incident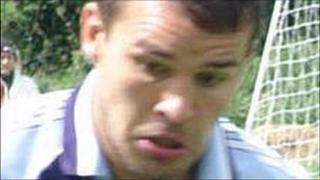 The family of a gaelic footballer who has been in a coma since a match in the US last month want the opposing team to be suspended from all competitions.
Mark McGovern, 20, from Belcoo in Fermanagh, suffered a head injury in an off-the-ball incident in San Francisco.
His parents and three sisters have maintained a vigil at his hospital bedside for the last five weeks.
They claim the Celts, the team Mark was playing against, are not cooperating fully with the San Francisco police.
In a statement, the Celts said: "The San Francisco Celts continue to hold Mark McGovern and his family in their thoughts and prayers.
"The San Francisco Celts have been, and will continue to co-operate with all investigations regarding the incident."
A GAA spokesman said that the GAA felt it would be inappropriate to comment while there was still an ongoing investigation.
Mark's father, Danny, said he was saddened by what he said was a lack of co-operation from the Celts team.
"They're (the police) getting good co-operation from Mark's team but from the opposing team there's none of them coming up with information.
"They have videos and they're not bringing them up at all," Mr McGovern said.
"I have done my best this week to get them barred completely from playing football.
"They played a football match the following week after Mark's injury.
"I do believe the president of the GAA is flying out to see Mark next Tuesday. We'll put pressure on him to get them suspended."
Mark arrived in the USA for a three-month stint with Ulster San Francisco the week before he was injured.
He was accompanied by two other members of his team Belcoo O'Rahilly's. The opposing Celts side is made up mostly of US-born players.
'Signs of improvement'
Mark was given immediate medical assistance at the scene after he was injured and put into a medically induced coma, from which he has yet to emerge.
Danny said he had shown slight signs of improvement.
"Mark has improved slightly. As they say in the hospital baby steps every day in the right direction," he said.
Mark's sister Connie said the family would stay with him until they could bring him home.
"We're here every day, seven days a week sitting at his bedside being confident and being strong around him because we feel that he knows we are there," she said.