Annacloy security alert: pipe bomb found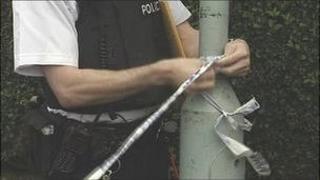 A pipe bomb has been discovered near a County Down village after a security alert on Saturday.
People living near the scene of the alert at Drumnaconagher Road close to Annalcoy were asked to leave their homes after a suspicious object was found.
Army bomb experts carried out a controlled explosion and confirmed it was a pipe bomb.
SDLP leader and MP for South Down Margaret Ritchie condemned the attack.
"The days of violence and terrorism are long over," she said.
"The people have rejected those who perpetrate these crimes and acts of violence at the ballot box. The public is saying quite clearly: 'Get off our back and leave us alone and let our communities get on with the work they have to do.' "
Meanwhile, the Army removed a suspected firearm at Blackstown Road in Crumlin on Friday evening.
A police spokesperson said the item was found wrapped in bed linen.