Three in court on Belfast rioting charges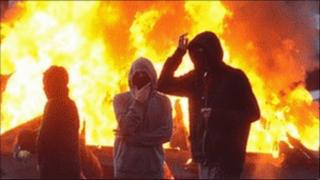 Three alleged rioters, including a 15-year-old boy, have been released on bail after appearing in court in Belfast.
Two of those who appeared on Saturday were accused of involvement in rioting in the Ardoyne area on 12 July.
The teenager was allegedly involved in trouble at the east Belfast interface.
Police have now arrested 27 people for involvement in the Ardoyne trouble. Officers came under attack from people throwing missiles following a contentious parade in the area.
The court heard that Joseph Rainey, 18, from Flax Street in Belfast admitted throwing missiles at police lines on two occasions in Ardoyne and had accepted that "his behaviour had been disgraceful".
District judge Amanda Henderson said she was only granting bail because of the accused's limited record and acceptance of guilt during interviews.
Ronan Kerr
Objecting to bail for the 15-year-old, who cannot be named because of his age, a detective constable revealed that when told to sign paperwork, he had replied: "Do you want me to sign this as Ronan Kerr?"
She also said that he had been involved in rioting at the same time last year and had also been questioned about other incidents in recent months.
The detective said the public had a right to be protected from the teen.
The judge said she would grant bail, but only because of his age and because an address in County Down had been put forward for the boy to go to live with his grandmother.
The teenager was ordered to be electronically tagged, observe a nightime curfew and not to wear a hoodie or baseball cap or other clothing that could conceal his identity.
The court also heard that Martin Brannigan, 25, from Monagh Drive in west Belfast had accepted getting a bus from his house to north Belfast to watch the riot.
However, he allegedly became involved and was identified on CCTV throwing masonry at police.
All three who appeared in court were also ordered to stay 500 metres away from any parade.