Craigavon: children in house while mother raped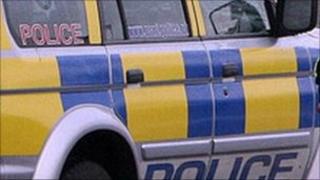 A woman has been raped by two masked men in north Armagh while her three small children were in the house.
Police said a three-year-old, a two-year-old and a seven-month-old baby were in the house when the attack happened.
The men got into the house in Drumbeg South, Monbrief, Craigavon, at about 22:10 BST on Thursday.
The woman was taken to hospital for treatment after the attack.
Police from the rape crime unit are looking for a man who is about 6ft 6in tall, thin, with large brown eyes. He had a local accent and was wearing a dark V neck t-shirt, black trousers, dark boots, dark gloves, and a khaki green monkey hat pulled down to his eyes.
He may also have had a tattoo on one of his arms with a black outline and green background with black writing.
The second man was 5ft 10in tall, stout and spoke with a local accent. He was wearing dark clothing and a balaclava pulled down over his face with eye holes cut out.
Police have appealed for anyone with information about the assault to contact them.