New law means drinking fans 'could face prison'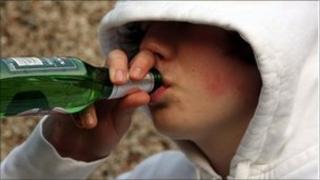 People caught with alcohol on a hired vehicle going to a major sporting event could be jailed for three months under new laws.
The same sentence could apply to those caught with flares or fireworks inside stadia at major matches.
The new provisions mean anyone involved in sectarian chanting, throwing missiles on the pitch or invading the playing area can be fined up to £1000.
The justice minister said the new laws will make sport more family friendly.
"The three sporting associations - rugby, football and the GAA - have invested a great deal in making their major sporting events memorable for all the right reasons," David Ford added.
"However there still can be times when the actions of a few can spoil it for the majority of fans and this new legislation allows the law to deal with those individuals."
For football, the new laws apply to international matches, IFA Premiership and Championship matches.
They also apply to Football Association of Ireland Premier League and First Division matches played in Northern Ireland.
For gaelic games, they apply to matches played at any ground which requires a safety certificate under the Safety of Sports Grounds (NI) Order 2006.
For rugby, they apply to matches played at Ravenhill.