Fire at bar owned by father of Celtic's Anthony Stokes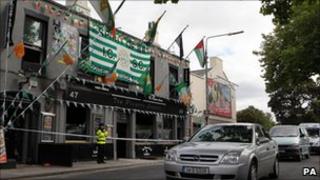 Police in Dublin are investigating an armed robbery and suspicious fire at a pub owned by the father of Celtic player Anthony Stokes.
Extensive damage was caused to the Players Lounge in Fairview in the blaze.
A group of four men, one armed with a gun, had earlier entered the bar, which is run by John Stokes.
They tied up the manager, took what is understood to be a significant sum of cash and started two fires.
A number of Dublin Fire Brigade units took more than two hours to get the fires under control and nearby homes had to be evacuated.
Earlier this year, John Stokes was ordered to remove a 40ft banner "barring the Queen" that he had hung outside his pub ahead of her visit to Ireland.
Mr Stokes said he reluctantly agreed to take down the controversial sign after a senior garda threatened to object to his application for a number of late licences.