Baby Aaron's bounces back from neurosurgery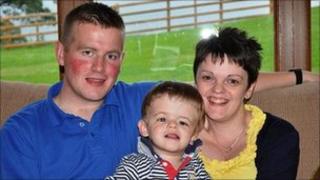 Little Aaron Gilmore is just 20 months old, but he has already come through major neurosurgery and amazed his doctors at how well he has recovered.
His parents Jenny and David from Rathfriland in County Down were over the moon when their baby boy arrived on 13 November 2009.
But just months later he was diagnosed with a rare bone condition.
"Straight away from birth there was a visible flat spot on his forehead. The paediatrician thought it was fine and told us it was just the delivery and we were to take him home.
"But as time went on it became more evident that it wasn't going to sort itself out and that led us to regular hospital and doctor visits," said David.
Aaron was eventually diagnosed with Right-sided Unicoronal Synostosis and sent to England for surgery.
"First off all when we heard what it was called it was frightening. But it was broken down for us," said Jenny.
"There are four plates in a child's head. Basically on one side of Aaron's head two plates had fused together too soon, possibly before he was born and this meant that one side had stopped forming.
"The other side was continuing to grow and this was causing the flatness.
"His eye sockets were out of shape as was the alignment of his nose. It was noticeable for us, but it wasn't until he went to Oxford that we realised how bad it was."
'Safe hands'
The family were forced to travel to the Oxford Radcliffe Hospital in England because the type of care Aaron needed was not available in Northern Ireland.
Without the surgery Jenny said her son would have been left disfigured and could have suffered from seizures and fits.
"We were confident going over there he was in safe hands," she added.
"Whenever we were there we met other families with children with other problems.
"At times when we were having low days when Aaron wasn't too good, we'd be out talking to other families and their children who had more serious conditions, possibly life threatening.
"And that gave us comfort and made us pull ourselves together and realise how lucky we were that we were getting our son home with us."
Jenny and David stayed with their baby boy throughout his ordeal and found accommodation in the Ronald McDonald wing of the hospital.
It meant they were minutes from Aaron's bedside, but could still find privacy in what was a traumatic and pressured situation.
The couple are now hoping to raise money for the wing, which is funded through charity donations.
"It cost us nothing to stay for a week," said David. "It was basically like a hotel. They rent the rooms off the NHS.
"We just decided he would like to give something back."
Although doctors have not ruled out possible surgery in the future, Aaron is back at home for the for the time being.
His quick recovery has astounded medical staff and offered his parents fresh hope that their son will lead a perfectly normal life.
"He is doing things I see other toddlers doing. It hasn't held him back. He's a real tear-away of a wee boy," said David.
"Sometimes people ask questions or they stare. But it doesn't really bother me or Jennifer.
"To us he looks perfect," he added.