Aidan Mullan drowns after falling into River Liffey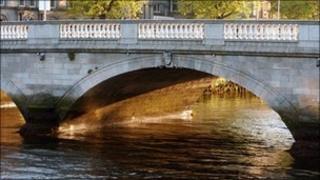 Tributes have been paid to a Tyrone GAA fan who drowned while on a weekend break in Dublin.
Aidan Mullan, originally from Tattyreagh near Omagh, would have celebrated his first wedding anniversary next month.
It is understood he fell into the River Liffey in the city centre, during the early hours of Sunday morning.
He had stayed on in Dublin after seeing Tyrone beat Roscommon in Croke Park on Saturday afternoon.
Since getting married last year, he had moved to Dromore.
Sinn Fein councillor Glenn Campbell knew him.
"Aidan was very popular, very much involved in the GAA in Tattyreagh and very well known and highly respected locally," he said.
'Tragic, sad time'
"He had settled in very well in Dromore with his wife.
"It was just coming up to the first anniversary of the wedding, so it is a very tragic, sad time for everyone; his wife, his mother and the family."
The parish priest in Dromore, Fr Patrick MacEntee, visited Mr Mullan's wife and family.
"There's a wide family circle on both sides, Aidan's side and Nicola's side, and everyone is very upset," he said.
"Their first anniversary would have been on 19 August and it was meant to be a very happy occasion, so this very sad event has brought it home to everyone that we've a very slim hold on life."
A post-mortem examination is being carried out, but the Gardai are not treating his death as suspicious.