Deputy First Minister Martin McGuinness in Lillis plea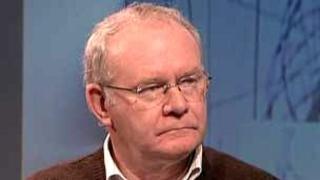 Northern Ireland's deputy first minister has called on Justice Minister David Ford to release a sick republican prisoner.
Martin McGuinness, Sinn Fein, added his voice to calls for the release of Brendan Lillis from Maghaberry Prison.
Lillis has a severe arthritic condition.
"There can be no doubt that Brendan Lillis is seriously ill and does not represent a threat to anyone," Mr McGuinness said.
"The decision of the British Secretary of State Owen Paterson to revoke the licence of Brendan Lillis is reminiscent of internment without trial.
2It is crystal clear that Mr Ford has the power to release Brendan Lillis on compassionate and humanitarian grounds.
"The advice I have received states that David Ford has the legal power to act and is not accountable to the British Government's Life Sentence Review Commission.
"I trust that David Ford will take the right decision on compassionate and humanitarian grounds."
Last Wednesday, a Sinn Fein delegation met Mr Ford to discuss Lillis.
On Tuesday, parole commissioners ruled that he should not be released on compassionate grounds.
But after Wednesday's meeting, the Department of Justice said the issue was "currently under active consideration by parole commissioners".
Lillis was sentenced to life in 1977 on explosives charges but was released on licence in 1993.
It was revoked in 2009 after he was re-arrested on robbery charges.
The reason given was that he was "a danger to the public" and he was told he would have to serve the rest of his original life sentence at Maghaberry Prison.
Earlier this year, it was decided Lillis was too ill to stand trial, although he could face charges if his health improves.